Today on Real Estate Investing Profits, Profit Masters Podcast, my guest is Eddie Speed.  Eddie is the founder of Note School. Since 1980, Eddie has been buying notes.  His Note School is a highly recognized training company that specializes in the teaching of buying performing and non-performing mortgage notes.  Eddie is also the owner and president of Colonial Funding Group LLC, which acquires broker discounted real estate secured notes.  Eddie is a leader and innovator in the note business.  As Eddie puts it, he's a note guy. He has owned several thousand properties.  He teaches people to buy notes, he buys notes in bulk and resells them in all increments.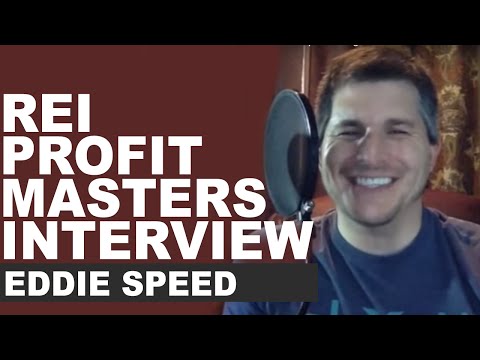 Eddie explains that he buys existing discounted seller financed notes and defaulted notes that are being held by banks.  With the defaulted notes, he will then attempt to modify and get the customer to pay again, and if that isn't possible he will try to get them to deed it to him or he  has the right to foreclose.  With over 40 thousand seller financed notes purchased by Eddie's company he feels it's an incredible opportunity.  
Here's a few of the questions I pose to Eddie:
Biggest influence – his father-in-law and he explains why

Any big mistake made – he has been defrauded

Advice in running a successful business – don't give up and don't get so hung up on price you don't understand how to be a deal architect

If you started all over again what would you have done differently – Eddie explains why he would have been part of a mastermind group early on

Greatest lesson learned – trust but verify

Why do you do what you do – Eddie has a passion for it
Profit Master Investment Strategy:
Eddie says in two-thirds of the United States real estate is too cheap for what it rents for in the working class price band.  He will find houses below a hundred grand that aren't getting conventionally financed so the owner has to pay cash.  He then will owner finance the property by selling it to the owner for half and will then use it as a rental property for 5 years.  While there is a time that the owner doesn't live in the property, Eddie has sold it to them for half the price and the renter has paid the other half.  Eddie says it's a wealth builder and a win-win situation for him and the owner.
To find out about the locations of Eddie's Note School 3 day training classes, check out noteschool.com/live-classes/.
Free training and additional information is available on his Note School website.
Full Transcript
Download the PDF Transcription
Cory: All right! Cool, cool, what is going on Mr. Eddie Speed?
Eddie: Its all good! Somebody ask me today what was my biggest challenge? We just to stretched out the hours of the day because opportunities right now is so good, I can't seem to get them all done.
Cory: I hear you, I hear you. I want to ask a couple of questions. Obviously, we're doing this podcast series, its called the Profit Masters and thank you for coming on here and sharing some of the strategies that you have. I know it's made you really successful, you and I met in a Mastermind and I know you pretty well but why don't you take just a few minutes here and go ahead and explain to our listeners who you are and what area of real-estate is your expertise Eddie?
Eddie: Well I would be considered across the country as a note guy. I've actually owned a lot of properties, several thousand properties in fact but I'm really a note guy. I bought notes since 1980, where we buy performing notes and non-performing notes, we have a training business called Note School and then we have a capital fund and we raise the money with the credit investors by notes. So if you kind of look at that how our whole circle works. We train people by notes, we buy notes in bulk and then we resell notes in small increments, as little as one note at a time to an audience predominantly trained by Note School.
Cory: Right, so most people know what buying and selling houses or flipping houses but for some of those who don't understand the difference between buying and selling a house compared to flipping a note or buying a note, can you explain that really briefly?
Eddie: Sure. So virtually everybody in the call knows about seller financing, so we'll use seller financing as an example. We'll buy an existing seller finance transaction where somebody has sold the property and they carry in the payments, we'll carry in the note over time, we'll those notes at a discount, we've been doing that a long time, in fact our executive has bought over $2 Billion in discounted seller finance notes.
So we understand it, how it works and all that stuff. Then the other side is we buy notes, essentially that came from the banks that are defaulted and we buy them at a discount, so we're buying the bank's position to buy defaulted notes and that enables them to do a couple of things, we can the customer to modify and pay again. If they can't pay again, we are going to get them either to try to deed it to us or we have the rightful cause.
Cory: I used to do a lot of short sales, in 2008 or '09 and 11 on. And a lot of people understand the concept of short sale whether they are getting the bank to discount the debt, the underlying debt, you could get it at a discount. Can you differentiate really quickly for those wondering in their minds, the difference between a short sale and a note?
Eddie: so in a short sale the bank is essentially agreeing to take a discounted pay off of the amount that they're owed. In fact, in the '80s we use to call it a short pay off, never dreaming it would become common knowledge. But, we never dreamed we would see this much in defaulted debt. And so, in this case those banks are not really foreclosing. The foreclosure rates are down. The reason that they're down is because the banks are selling packages of defaulted notes in lieu of actually taking them to foreclosure, so they're swapping notes, its become so popular, its over $10 Billion in tapes that at least made the press. I can't how many tapes didn't make the press this year. The tapes are just a group of loans. So there's $10 Billion in really large fealty, FHA, Bank of America, Chase. There's $10 Billion of those group of loans, they've already been put in the marketplace this year and we think this market phenomena … the mountain is so big Cory.
Cory: It is and it's not getting any smaller.
Eddie: you can even ship off a mountain; we believe there's a mountain of 9 Million defaulted notes. You re-default rate of notes entering the space, not dropping the size of the mountain so the space we believe is going to be THE topic in the next few years and there's a lot to be said about somebody that acts on the business and gets there first.
Cory: I believe in that, you bought over 40,000 seller-finance notes, is that accurate?
Eddie: Yup.
Cory: That's incredible. And from you doing that's going to give you an incredible amount of knowledge. I'd like to know something Eddie, we ask a lot of these same questions from each of our guests on here and I want to get your take on it, what made you want to get involved in real estate? Just give a quick summary.
Eddie: It was an accident. My father-in-law was one of the founders of the industry of buying seller financed notes. He and his partner they were over in a little town Johannesburg, MS. But they were like kind of pioneers in the business and my wife of now 33 years, we were kind of dating and I went over there one Sunday afternoon and they started selling about the note business. After what seemed like 8 hours later, we got up from the table and he said, well, come by the office tomorrow morning and I could show you how to get started and I really did. And that's how I did it.
Most real estate investor pick the notes based because of this incredible opportunity. I was just a 20-year kid and I just stumbled into it.
Cory: So was there a breaking point in your life Eddie? You know where some people kind of have this point in their life where they were doing something different than real estate and they are just getting into a place where they weren't able to make ends meet, kind of enough is enough and then they jump into the real estate game, they jump into another career. Was there a breaking point for you or did you just kind of go another round?  
Eddie: Well you know, I started in 1980 and interest rates were really high, and Cory, as you know I was a real cowboy.
Cory: Yes, that's right. I've seen the roping trick folks to know that it exists!  Eddie is a bonafide, dignified cowboy (Laughs).
Eddie: Yup. I came to think that I would be in the ranching space or the cattle industry in some way and interest rates were 18%, the cattle deal wasn't any good. I was working for the Mississippi Board of Animal Health, as a horse inspector making a  $1,000 a month and I was living in a 10×4 mobile home. My father-in-law, this may sound kind of gross but it resonates, my father-in-law said, "Son, I'm going to tell you something, you're going to make a lot more money with a pencil than you can wiping sweat."
Cory: I think someone needs to write that down. I have 2 older brothers Eddie, and you know this from me telling you all about it. One of my brothers can take apart an engine and put it back together again. And I'm so impressed with him that he could be able to do that but he would pull his hair out if he had to be behind a desk or be on the phone, do some of the things that you do by signing with a pen, you know, than out there doing all the manual labor and all that, he really enjoys that type of business so, at one point I thought, man if you could a business another way, it could be better. Well, it's not necessarily true because some people really enjoy that kind of labor. But I agree with you, I think that you will make a ton more money by using your mind, your brain and using that with a pen than you are by having that manual labor. I totally agree with that.
Eddie: Well there's nothing wrong with what your brother does and you and I totally agree that's God's plan for his life and you and I know there's nothing better than that plan, right?
Cory: He loves it. He talks about how he names his truck and he's on Facebook a lot of times on little things, he's got buddies that are in that world and in that life. For me, I've told him this too; my definition of hell on earth is driving a truck. I mean it really is my definition of hell on earth could be getting in a truck everyday and driving it but he loves it. And it goes to show you of how the perspective is and using your strength. What was your biggest influence Eddie, when you first were getting started? Somebody in your family said…
Eddie: My father-in-law and his partner and no question, I would not have made it had I not basically served in apprenticeship with them and you and I wouldn't be having the conversation today but I had several people. I think the guy that really impacted me when I was a little more seasoned in business, well a lot more seasoned in business was Candy Angelo, the guy that founded Home Investors probably in 1986.
Cory: The guy that buys those ugly houses.
Eddie: Yup and this was way before he found Home investors and when he decided he was going to build a franchise, he said, you cannot make it in real estate investing for 25 or 30 years and not have notes as part of your business and so we did that. Can was a brilliant guy, he passed away about 10 years ago. Brilliant guy loved him immeasurably and he was an older guy than me and he was really seasoned and very creative and he impacted me a lot. I'll tell you one quick story about Candy Angelo, Candy Angelo loved this home investor franchise idea and all the billboards and all that stuff. That was Candy Angelo's mind; uggh all of that was his, he was not a marketing guy so invented all that stuff. Super bright, creative guy. But what people do not know is that Home Investor didn't make money for years and so Candy Angelo had to essentially earn a salary on a very part time basis so he would work more than 40 hours a week building home investor franchise, when it couldn't afford to pay him a salary. And I would say for about 7 years, 60 to 80% of his sideline income came from the notes base, most people don't know that but that's an absolute fact.
Cory: Wow! That's a huge amount.
Eddie: So the note business for him let him build his dream of Home Investors.
Cory: Sure I think more people need to understand just how powerful note buying and hopefully after today they will get a little glimpse of that. What was one of the big mistakes Eddie that you made on a deal? What was maybe one of your bad deals? What did you learn from it? How did you get through it? I think some people will find some value in that.
Eddie: I've been defrauded, I've had somebody come in the office with a note and all the documents and sold me the note and walk out the door and find out later he sold the exact note to somebody else.  And I've had that happened.
Cory: Selling the same note twice.
Eddie: Yup, They say you make profit when you do that Cory.
Cory: (Laughs) I bet you can. How did you get through it? How did you rectify it?
Eddie: In our situation, God's grace and tidal policy.
Cory: tidal insurance policy, that'll help. That's poor (Laughs).
Eddie: Save if I can, that's absolutely what happened.
Cory: What we do is we want to talk about a profit master investing strategy. Obviously, you're a profit master. While you're    on the show here Eddie, can you share something that's working extremely well on your business today, some strategy, obviously, for the note buying space, something that's working extremely well that our listeners can grasp and maybe even have an action step to get a result from?
Eddie: So the quick answer is Cory, where you live in OK city or Dallas, Fort Worth or in probably two-thirds of the United States, real estate is too cheap compared to what it rents for. Now that's not true in every pricement but in working class pricement, let's just say, Cory in some $100,000 houses or maybe some $150,000 houses.  
Cory: In Midwest you see a lot of sub 100s.
Eddie: You see houses all the time but the realtor says it's worth 60,000 bucks and it rents for $800 to $1000 a month. That house is really worth more than 60 thousand. In fact if you look at all the comps that realtors use they're just cash distress calls. So one of the strategies that we've done and you and I have mutual friends and having space in the loaded space of rental business, turn key rentals and so what I found is, those houses below 100 grand didn't get financed very well so most of those people are paying cash. So I backed into a model which I teach a lot about how to owner-finance these houses and you take a house, just kind of do a general math, if the house, the realtor says is worth 60,000, I sell it for 85,000 using the cash investors'. But he's now only paying half of that price…
Cory: Half of the 60 or half of the 85?
Eddie: Half of the 85. I am not selling it for 60. And then I use the income of the property and he has a fully paid house in 5 years because I owner-finance it and the income from the rent pays for the house. So he didn't get the house immediately, but I sold him a house essentially at half price, and let the tenant pay for the other half
Cory: That's beautiful.
Eddie: That's a wealth builder. It's a winner for me, it's a crazy winner for me but it's a winner for them.
Cory: Wow! That's incredible, how many of those have you done?
Eddie: too many to count.
Cory: (Laughs) but literally that's one way that you can scale right? You can start fairly small and then you can just grow it to how big you want it.
Eddie: you can operate, that's kind of a hedge fund model right? You can do this one house at a time. I wouldn't have taught this 6 or 8 or 10 years ago or I would have been crazy. Its just because the insurgents of so many people buying rental houses and the availability of data of finding the customer, dialing them into a marketing strategy. It wouldn't have been available back then because it wasn't quick, you couldn't get the information quickly but now you can.
Cory: Right. Well I think everyone can easily see the value of that strategy. Thank you.  That's awesome, what's one piece of advice Eddie that you would share about running a successful business? Something quick that someone can take with him.
Eddie: Just don't give up.
Cory: I love that. If you were to start over Eddie how would you change, and maybe this could an advice that you're talking to a newbie starting real estate right now, how would you make this different changes if you had to start all over again?
Eddie: You know Cory, as you know, you and I are a mastermind of and its rather expensive and note school has mastermind and trainings and stuff. And Cory, I've told you this before I was never a mastermind then I went and connected with you guys and I would just say that those mistakes that I made because I have been a tenacious soul. I've been doing this for 35 years and the sun didn't come up every morning the same way. Sometimes you just got to make it happen but that thing that I realize was that I was not utilizing other minds and other expertise in different ways and those are mistakes that I made early in the game. This is not and you now know my kids, this is not how I teach, I start my kids to learn the business, I believe the power of hanging out with people like you.
Cory: You know I believe in hanging out with the people like you and that's great that we did meet each other in the mastermind and I think that mastermind is like a business fraternity and not only that I also like to be able to go the mastermind because I'm around people that I feel are somewhat of an equal. We're thinking about the same kind of things and we can get different perspectives. The book that we've all read which is Napoleon Hill's Think and Grow Rich, I kind of thought that, that book was kind of okay but when actually went to my first mastermind, I really understood what he was talking about. When he was talking about the synergy and you are average of the 5 people that you hang out with and couldn't be much more true in Masterminds. Eddie, what's one of your favorite motivation business quotes?
Eddie: Well, I'm a Warren Buffet guy. And he made a quote and I may not say it exactly right but I'm close enough, he said, people buy price until they understand value. And I think real estate is a value business. Look at what a value we place on price.
And sometimes, I have a funny thing I do in our audiences fairly regularly enough. I have a roomful of real estate agents let's say in Rio, sometimes there's are 150 in the room, there's always some young, some Cory-like folk up-and-comer, right? And so I'll say, hey you got a piece of property you want to sell to me? And he'd say, oh yeah uhumm! And I'll say, I'll tell you what I'll do, I'll let you make your own price and you can be ridiculous and they're like okay, I'm ready! And I'll ask them a few questions about it and they'll come up with a price and usually, they're not ridiculous and I'm going to say, no, no, no be ridiculous! And they're like okay! It's really worth a hundred now I'll sell it to for a hundred and twenty five. I'm like, get a contract and before the end of the day we'll do it. I said now I'm going to make you understand, I get to pick the terms.    
Cory: their price, your terms. (Laughs)
Eddie: And it resonates because we get so hung up on price, we don't always understand how to be a deal-architect.
Cory: I love that and I love that term deal architect too. Eddie, what books do you recommend and name one, just one that's changed you life? Just over the top with the rocking book for you.
Eddie: Now Cory you know I have dyslexia. (Laughs)
Cory: (Laughs) I do.
Eddie: Well this is really a joke our audience doesn't know it. I really do have dyslexia. I don't recommend it but I have learned to live with it. (Laughs)
Cory: (Laughs) I'm looking for a couple of 'Eddie-isms' I can get from you. Folks, there are some terms from Eddie that are called Eddie-isms' and he's a good old boy and he says a few things that are pretty funny.
Eddie: some people really know from the scripture but I can't think of the name of the book but it's a How to Sell Anything? What's it called? You know the book I'm talking about?
Cory: which one? Are you talking about Dale Carnegie or a sales book?
Eddie: How to Pitch Anything!
Cory: so just pitch anything.
Eddie: That's it. So I like that because we're always in the business of making an offer and showing people the value. As far as impacting my career, we won't trump the Bible. As far as impacting my career, I think that Book's been by far the best for me.
Cory: Eddie, what's one of you favorite mobile app that you use everyday? I know you're not a super-techie but what's one app that you use?
Eddie: I'm an iPhone guy everyday. I hate to tell you this but the one that I use the most is my American Airlines app. It's sad to say but it is. The other one is the weather app because I always want to know what the weather is, of where I'm going. It's the truth.
Cory: (Laughs) that's great. That's funny. Okay Eddie what's your morning routine? Many people ask and email this question and so what's your typical morning routine?
Eddie: as you know I travel a lot, when I'm home. I don't beat myself up anymore and to get up at a ridiculous hour.  Now I do have, but I don't get up at a ridiculous hour.
Cory: what's not ridiculous hour? I get up at 5:15 in the morning…
Eddie: no, I don't get up until 7 o' clock, but I'm up late, I do a lot of good thinking late, I don't necessarily work but I think things through…
Cory: what's late? How late do you usually stay up?
Eddie: midnight.
Cory: midnight. Okay.
Eddie: sometimes at 11 o' clock or something like that.
Cory: so your morning routine is you get up at around 7 then what's the next hour?
Eddie: I usually exercise…
Cory: like doing jumping jacks or push-ups?
Eddie: we've got an Elliptical machine in the house, my wife and I train with a couple of different people and we'll go train with them. Trained this morning and I'm trying to… I'm getting old Cory; I just had to take care of myself.
Cory: (Laughs) not that old Eddie.
Eddie: so I try to do that if I can and my wife Martha, that you know very well, works in the business with me, so usually we go into different cars to the office but sometimes we don't. And we don't have a round table breakfast thing; our kids are up to the point where they are up and gone earlier. They are not at home because they're in college or something like that.
Cory: So nothing really regimented. Right? Like you don't have anything where you get up…
Eddie: its not some Cinderella story. I get up and go out and look on the porch and have these deep thoughts, whatever.
Cory: (Laughs) right, right. What's the single greatest lesson that you've learned that's helped you get you where you are today Eddie? Just really quickly in your mind. What do you think that is? One lesson that you can think back then, because I learned that, that's really helped me get through to where I am today.
Eddie: trust but verify.
Cory: That's a Ronald Reagan! Isn't it? That's great. What are you most grateful for Eddie?
Eddie: family.
Cory: I love that. If you have to summarize it why do you do what you do? This is something that a lot of times we forget, I know I do. But we've talked about this in our Mastermind but why is it, that you do what you do right now Eddie in the real estate investing business?
Eddie: Cory, I know people say all kinds of things and I'm pretty blessed that I get to father some charities and I'm very blessed that I have a family that I love and I want to give a lineage to. But I'm not just going to just give it to them. I'm going to help them learn to it. And all that is really cool but I'll just be flat out honest with you, I just love this, I have a passion for it.
Cory: I can tell you do, every time I talk to you, you're teaching people. You and I have taught together in Dallas and…
Eddie: Yeah that school for teens.
Cory: that school for teens. I loved that and also just seeing how you break down the business in such an easy way. If you ever want where Eddie's at in advance, we'll just give a chance to find out where he is in just a second, but you got to check out his Note School, it is absolutely incredible.
And I do, I believe you when you said that. Sometimes, people say something you and you're like, yeah you're just saying that. But I really do believe you when say that because I can see it in you and you're doing it all the time and you the passion for it. Eddie, at what point would you recommend hiring a coach or a mentor. And how important is that man to your success, thinking through your hells and tribulations and ups and down?
Eddie: well, in my early days, you basically know I've served in an apprenticeship. So I literally worked for free. And I've mentored and trained a lot of people. I've paid a lot of people to help me. And you and I mutually pay some people to help us with things. And I'm saying to you that, experience is what you get when you're expecting something else.
Cory: let me camp it out, experience is what you get when you're expecting something else.
Eddie: So if you want to avoid experience, you need to hire somebody with an experience.
Cory: Gotcha! Wow.
Eddie: and that can look all kinds in different ways, it could be a Mastermind, it could be a class, it could be working under somebody. That could be a lot of different things but that's a really important thing. A lot of times, we have this grandiose ideas that's going to work and many times in life, have you seen, turn out to be different than how you initially thought its going to be.
Cory: would you have hired a coach earlier on in your career Eddie or about bright time that you did? I know you've hired several coaches. Do you think you would have been earlier on that you would have hired one or much earlier?
Eddie: much earlier. You and I, we were in class the other day together. From a guy that's actually good. And it's a class about speaking, and I told you, I made a terrible mistake in not hiring somebody earlier to help me with speaking. I know the note business, okay? Its not likely I could hire somebody to go teach me about the note business from a speaking perspective. Just because not a lot of people speak about it and I'm pretty seasoned but I can hire a lot of people who can help me communicate my story, they're good communicators in different areas, so that's an example of I look at myself and think and I just didn't make myself do it. That's kind of my part where I want to make sure everybody understands what its like.
People, I think they look at us some days Cory, to them we seem a little bit untouchable, but really, we're just some bunch of guys that made a bunch mistakes. And we know a whole lot of ways not to do it anymore.
Cory: that's so true, you know just to add to that 5 seconds here Eddie, and you said it so well. I think that, really on a personal level whenever as a guy, I know there are a lot of girl listeners too.  As a guy, I find it really difficult to ask for help for something. So its kind of like guys don't like to be told what to do, just read instructions, just kind of want to figure it out, and there's a reason why and because I've investigated this and its because psychologically, I think I'm weaker whenever I ask for help.
I just want to challenge you out there, if you've thought that way before and I know its not something you typically just want admit-that you're weak. But if actually you're going to be honest with yourself and if that's something that resonates with you, then I want to challenge the way you think. Tell yourself a different story, that you're stronger, succeed faster, and everything that you want in your life will get to you faster if you ask and reach out for help. And you're stronger not weaker for having that mentality change, do you agree with that Eddie?  
Eddie: Look at every professional athlete, look at all of these people from the President to this and that, they're surrounded with people that are helping them get them a vision on what to do. They're making observations, they're a certain segment on what they're doing in a way and I agree and a little bit hard-headed being honest, that I did not get help quicker and there's no good reason for it.
So I'm cured for that now and so you get to see at different things along the way and its kind of funny when you were going to that class the other day, and I didn't think I know you were going. Of course when I walked in, I had to walk around you so won't know I was there. I'm just kidding.
Cory: (Laughs)
Eddie: First thing I did was run and hugged him.
Cory: that's what we always do. Hey Eddie, okay, this has been fantastic. I think I want to go ahead and be conscious of everyone's time. Thank you so much for taking the time, I know you're incredibly busy and that really is because you're on the road a ton right now. And you love it and you're teaching. Where is the next event coming? How can someone get in touch with you if they want to know more about Note School, more about your event Eddie?
Eddie: we have a specific site that you can go to that will tell about this 3 day classes its called attendnoteschool.com. There are 2 different classes, one on performing notes and one on non-performing notes. The 3-day classes, you've been to and they're really solid and they're like game changers for anybody that's a real estate investor. And obviously bolting on both opportunities is naturally going to happen.
Cory: so attendnotebuying.com.
Eddie: No, attendnoteschool.com
Cory: attendnoteschool.com, excuse me, sorry.
Eddie: our basic website is noteschool.com. There's some stuff and they can go on there, there's some free training they can get, some simple free stuff. Just to get you all started in the business or if they want to drill down and look at a class then they would go to attendnoteschool.com and it's got the specifics on those 2 classes. And it tells you where they are.
Cory: That's perfect, Eddie, thank you for the time to be on here. I will make sure that we have that domain in the show notes and I will send you a recording of this, any final thoughts?
Eddie: I'm really, really glad that you're doing this, bringing back the podcast. You have something to share to folks. I want to thank you for everybody in the audience, for you're getting after this again.
Cory:  really appreciate it. Thank you again Eddie, remember as always to be a servant and make sure that you attend to every one of the profit master podcast from real estate investing profits. Thank you again and appreciate you and I'll see you on the next profit master podcast. Bye now.
Ask Cory A Question
Want to get in touch with Cory and ask him your most burning Real Estate Investing question?  We've made it super easy for you.  Just head over to our Ask Cory A Question page and start recording.  Cory will play your question live on an upcoming show and answer it personally.
Who Do You Want To Hear From?
Name some folks I should get on the show! Hit me up: support@realestateinvestingprofits.com and I'll do my best to get them on.
Did You Get Your FREE Investing Guide?
TEXT the word PROFIT (38470) to immediately sent Your FREE Investing Quick Start Guide!
JOIN The Elite Real Estate Investor's Board of Directors
Connect Here
Please check out our website, realestateinvestingprofits.com for the "Down and Dirty" Ultimate Real Estate Investing Quick Start Guide download.  
Join us on the Real Estate Investing Profits Facebook site too!