I am amped about today's episode of REIP. I haven't been this excited for an interview in a really long time. My guest today is totally changing the scene through his investment strategies and his faith, and I couldn't be more psyched to have him on today. Paul Moore is the real estate investor behind Smith Mountain Homes and Wellings Capital, and he's got the perfect balance between earning and giving back. This interview is one of my favorites, so strap in and get ready to have your mind blown. And please watch us on the video because Paul's got amazing charts and graphs that really illustrate how his multi-family investing strategy works.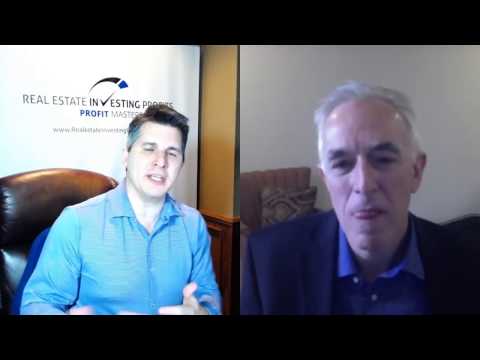 Paul started out flipping properties like the rest of us, but how he got into multi-family investing is really interesting. He shares today how he launched an entrepreneurial venture in Detroit, got bored, and started flipping houses before flipping was even a thing. He started with mobile homes and moved up into waterfront properties. Things got tough when the housing bubble popped, like it did for most of us, but his recovery strategy was all about giving back. He was giving to others when he had nothing and it paid off in a huge way. He's now working with multi-million dollar investments and teaching other investors how to benefit from the low risk and tax cuts of commercial investment in apartments and multi-family homes. Be sure to watch our interview video because Paul is sharing his graphs and his work illustrating how multigenerational profits work and how you can cash in on multifamily properties and investing. Start video at the 25 minute mark to see Paul's charts and graphs that cover the on-going transformation of the housing market as we move through the 21st century.
MINUTE MARKERS
4:20 –  Here is Paul Moore!
5:30 – Paul's got his own podcast
6:25 – Paul got his start at Ford Motor Company
8:00 – How did get Paul get involved in real estate?
9:15 – Paul was his own inspirational leader at first
10:15 – Paul's local business Smith Mountain Homes helps local real estate agents
14:10 – How did faith help Paul get out of his $2.5 million debt?
16:30 – What is WWGMD and who is George Muller?
19:20 – Paul's fateful meeting in a Subway restaurant that changed his view of subdivision
22:28 – How did Paul's experience shape his real estate investment strategy?
24:23 – What's the difference between investing and speculating?
25:38 – What's working for Paul's commercial multi-family investing? (check the video!)
28:35 – Paul's visual aids for the echo boom and how it effects home ownership
32:25 – The graph that convinced Paul's financial planner to invest in multi-family
36:30 – The tax benefits of commercial investing
38:20 – How are fractional owners working for Paul's multi-family investing strategy?
42:00 – A quick summary of cost segregation and the acceleration of depreciation
45:25 – Paul breaks down forced depreciation
50:15 – What's Paul's favorite motivation quotes?
52:30 – Paul absolutely loves HelpSpot
53:33 – Paul's morning routine
56:40 – Paul talks about his Type A Personality sleep patterns
58:40 – What is Paul most grateful for?
59:25 – Paul recommends finding a mentor to help you kick start your next big move
1:01:50 – What does Paul's company – Wellings Capital – have to do with Toms Shoes?
1:03:20 – Paul's passion stops him from retiring
1:11:00 – Check out Paul's book The Perfect Investment
If you email Paul your receipt at paul@wellingscapital.com, he will match your amount with a donation to Exodus Cry Films
Links and Resources:
Paul's Podcast: How to Lose Money
Paul's Website: Smith Mountain Homes
Paul's Business: 
Paul's Book: The Perfect Investment
Full Transcript
Download the PDF Transcription
Cory:            What is going on my party people? This is Cory Boatright. I am the founder of Real Estate Investing Profit Masters and your host today on Profit Master podcast. How are you doing? I hope you're doing phenomenal, blessed. I'm bringing you one of my absolute Favorite podcast interviews that I have done to date. It is with none other than the Mr. Paul Moore.
You may or may not have heard of Paul Moore with Wellings Capital. He is going to share with you just an absolute, epic interview of some of the things that he's been through and what he is focusing on now, which is creating multigenerational wealth through commercial multifamily investing. He has a book that he's going to give you access to, alongside for the very first time ever, he actually showed screenshots of some graphs that he's been working on, showing you the power of multifamily investing. He talks about his story of flipping properties and what moved him over into multifamily investing. I think you're just going to be blown away with the transparency, the clarity. What he is doing right now, I'm just so excited about this interview for you. Can you tell? Make sure that you tune in and listen to all of it.
Have you downloaded your free copy of my book? It is easily sent to you by texting the word profit to 38470. It is the Down and Dirty Ultimate Real Estate Investing Quick Start Guide. Get going. We've had thousands and thousands of people download this book. And it's all because they like what they're reading, they're sharing it with their friends. If you haven't got it, you're really missing out on a treat, some really great things in there.
I'm excited to bring this interview to you. By the way, if you are interested in some coaching, we get asked this quite frequently. This year, in 2017, we are making some changes and we're actually putting some programs together. Now, listen to this, where we will come to your state and spend two to three days with you, getting you really just ready to go with your wholesaling business, getting you up to speed on your mailers, everything that you need to have just a machine working. This is not theory. This is a business model that works. It's something that I'm doing right now on my own business. It is pretty incredible once you get all of the pieces together to see what the puzzle looks like. Because right now, it's just a bunch of pieces.
If you're starting to get a little bit of success but don't know how to consistently keep it going. Make sure that you go to realestateinvestingprofits.com, at the very top, you'll click on coaching or you can go realestateinvestingprofits.com/coachingapplication.
Here is Paul Moore. Paul, are you there?
Paul:             I'm here.
Cory:            Hey, how are you doing?
Paul:             Great, Cory. How are you?
Cory:            I'm doing phenomenal. Thank you for taking the time to be on the show. I'm really excited about talking about a couple of things that you're doing now. Your emphasis is put on multifamily which we just had another guest on here, Scott Meyer which I believe you know Scott?
Paul:             I don't know him, but I watched the show. It's great.
Cory:            Scott is another mastermind member from Collective Genius that does self storage. I'm seeing more real estate investors, and myself included, we just did 100 plus units in Arizona, my partner, Sean terry and I. Basically, you're seeing more people do go from residential to multifamily and I think it's really powerful, especially whenever you can apply some of the marketing principles that you do with residential to multifamily. Very few people are doing that but not only are you doing that but you also have a podcast which is How to Lose Money. Is that right? Is that the name of the podcast?
Paul:             It's right. How to Lose Money.
Cory:            That talks about the failures which, I don't really like that word, but basically the challenges, the failures of what people have went through in their investing career and how they overcame them. What are the lessons that they learned. I'm loving how you put that together. That's awesome.
Paul:             Thanks.
Cory:            That's cool. You also have a book. Hopefully you can talk a little bit about that too but I want to get into some of our standard format of what the folks that listens like to know about our guest. The most important is what made you get involved in real estate investing and what area, necessarily, are you focusing on right now besides multifamily or is that where you're putting all of the emphasis?
Paul:             I got an engineering degree and MBA from Ohio State University. I went to Ford Motor Company in Detroit for about five years. I would have been able to retire about a year from now at 30 years but I think I would have died, Cory, if I would have stayed at Ford Motor Company. We launched an entrepreneurial venture in Metro Detroit.
Cory:            Okay.
Paul:             We did really well. Wall Street got really interested in our business model. Hundreds of companies actually went public or were acquired by public companies in the mid 90's, it's an HR outsourcing concept called the PEO, Professional Employer Organization. I was a finalist for Entrepreneur in Michigan two years in a row and then our company was acquired by publicly traded firm. I had to decide if I wanted to raise my kids, I had 2 at that time, we have 4 now, we're married for almost 30 years. We tried to decide if we want to raise our kids a mile and a half from Detroit city limits as it was imploding or do we want to buy a farm on the top of the mountains, in the Blue Ridge Mountains. It was kind of a hard choice, I'm kidding. We moved to Virginia, bought 120 acres, started a not for profit organization to connect with international students studying in the US at different colleges.
Cory:            Wow.
Paul:             That was fun, but I actually got to tell you, Cory, my answer to your question is how I got involved in real estate investing. I got bored. Retiring at 34 years old, 35, sounds fun, but I actually was a high energy entrepreneur, I couldn't sit still so my friend and I started flipping houses before flipping was even a thing. We flipped ultimately about 60 houses, built some modular homes, a stick-built home, developed a subdivision, started flipping high end waterfront lots. I went through a 15 year education, stuff I never learned in my MBA, and made a ton of mistakes, lost a ton of money, made a lot of money too. All that led me to a focus. We actually built a high end hotel in North Dakota and a really high end multifamily facility and all that channelled me to a place, funnelled me down to where I really want to focus squarely on commercial multifamily.
Cory:            Wow, that's quite a story. Really, what made that transition? I'm interested in finding that out but before that, did you have any kind of influence in your investing at that time? Were you following anybody? Were you reading any books about anybody that really gave you that leadership or that nudge over?
Paul:             Not at the time. Honestly, I will just have to say, we didn't even know, like I said, what flipping was, I don't know if there's a TV show because I actually was on HGTV House Hunters years ago on a waterfront special but I actually didn't even watch that show. I had to go watch the show a few times before I was on it just to see what it was like. I'm a marketing guy too. We actually developed an online real estate portal where we generate thousands of leads for realtors and we sell them to realtors. I still do that. That's kind of where my base income comes from while I charge here into multifamily.
Cory:            What is the name of that company that you started and you worked with real estate agents, Paul?
Paul:             It's a local resort in the Blue Ridge Mountains. The resort's called Smith Mountain Lake. The website is smithmountainhomes.com. If you haven't heard the Smith Mountain Lake, it is a truly beautiful and amazing place.
Cory:            Explain just a little bit about Smith Mountain Homes before we continue on here with the question. What exactly is Smith Mountain Homes and what you do with it?
Paul:             In 2004, when we were flipping homes, my partner decided he just wanted to stay with flipping, I decided I wanted to build modular homes and flip these high end waterfront lots. A friend of mine convinced me to start a website and I didn't know anything about that so he charged me a whole lot of money to build a high end website. Basically, he told me about something, I think it was called Urchin at that time and it morphed into Google AdWords. I'm sure you're familiar with that.
Cory:            Yeah, and back then, there was Go To, I don't know if you remember GoTo back in the day?
Paul:             No, I don't.
Cory:            Yeah, before AdWords there's GoTo.
Paul:             Okay.
Cory:            Yeah.
Paul:             We started using what became Google AdWords. We started generating leads. Basically, we put ads up on Google and we'd basically say, "If you want to search the MLF, just give us your first name and email address." Basically, we collected, I think, 40,000 emails over the years. Basically, we would assign these leads, these prospects to a team of realtors and they would go out and try. We've put in a drip campaign. We did all of the marketing stuff. Set them on constant contact type system. Basically, we dripped these people for years and years and then, every now and then, somebody will say, "Hey, you've been emailing me for eight years. Now I'm ready to buy. I'm right to retire." We sell them homes between $350,000 up to almost $2 million."
Cory:            Wow. That's a pretty big range. What is the median out there? Is it in the $300,000 or $400,000 range, kind of like San Diego?
Paul:             Yeah. At the height of the boom, it was probably getting close to $600,000 but now it's down to $450,000 to $500,000.
Cory:            You're still closer. I think San Francisco is $700,000 or so. I just thought of that. In Oklahoma, just to give you an idea, we're $122,000. It takes four or five houses to equal one of your houses.
Paul:             Right. That's the beauty of this because I'm actually selling, if you want to call that, selling these leads to realtors, the realtors go out and close a $500,000 house, they get half the commission, I get half the commission.
Cory:            Nice.
Paul:             It's good for both of us because it's still a fairly substantial sale.
Cory:            That's a great model. So you guys split the commission on the leads?
Paul:             Right.
Cory:            That's pretty powerful. I guess you really didn't have one, besides when you're at Ford, you really didn't have a breaking point, like you said, you just got bored. What was one of your big real estate challenges while you were flipping homes? I think that would be something that you said you lost a lot of money in the name of the podcast that you represent right now and founded is How to Lose Money. What is the story that you have, Paul, that we can learn from your experience?
Paul:             I've got so many stories of failures. I had $1,500,000 in the bank in 1998 when I left Michigan and moved to the Blue Ridge Mountains. Basically, I started swinging for the fences. I started investing $100,000 a year in speculative ventures and I really want to talk about the difference between speculation and investing but I'll save that for later. Anyway, we began to flip dozens of homes, like I said, waterfront lots. In 2005, Fortune Magazine's cover story, I believe said, "The real estate bubble is about to burst."
Cory:            That's right. That was actually the start of the big fall in 2005.
Paul:             Right. I chose to ignore that. There was a song by the great philosophers Simon and Garfunkel called The Boxer. It says every man hears what he wants to hear and disregards the rest. I chose to continue to pay attention to my growing bank account and all the fun we were having flipping these high end lots. We were making up to $100,000 per lot, selling these high end waterfront lots in the boom.
Anyway, when the market turned, I found myself $2,500,000 in debt. The real estate income from the website I mentioned earlier was dropping, and my partner said, "I've had enough. I can't continue to make these $10,000 plus per month interest payments. I'm done." There was just no obvious way out. That was actually my biggest real estate challenge. If you like, I can elaborate on what happened next.
Cory:            Yeah, absolutely. Don't leave some suspense.
Paul:             Okay. I have a morning ritual where I try to spend some time in silence, and prayer, and meditation. One morning I was sitting. I don't think I was particularly bothered as much as I even should have been maybe about the $2,500,000 in debt. I actually had this phrase just dropped in my mind. It was something like this, WWGMD, which was to me it was what would George Muller do?
Cory:            That was right around the time the big what would Jesus do.
Paul:             Right. Are you familiar with George Muller at all, by the way?
Cory:            I am. Yes, sir.
Paul:             For the audience, George Muller was a h-alien and he turned into a saint in the early 1800's. He lived throughout the rest of the 1800's to 1898. He started multiple orphanages in Bristol, England. He housed, I think it was a total of 10,000 orphans over the years. He had a really weird and unusual fund raising technique. That was he did not tell anybody, even his own staff, he never told anybody what they needed. He had a very, very strict, clear budget right down to penny but only he saw it. He basically relied on God to provide the funds he needed. It lead to a lot of unusual situations like the times that they would sit at breakfast and all the orphans were gathered around the table. They were about to have breakfast. They thank God for food and there was no food, no milk. And then, within minutes, a knock on the door and there was a bread baker at the door and he said, "I've been up since 2:00am. God told me to bake bread for the orphans." And then, literally minutes later, another truck stopped at the door. It was a milk wagon. They knocked on the door and said, "Our milk wagon broke down right outside your door. This milk is going to go bad unless you take it." This happened time and time again. I believe George Muller raised about $200 million in today's dollars, all through faith.
                    What does this have to do with real estate and debt? Basically, I decided that George Muller, if he ever was in a situation like I was, he would have given generously. He would have started giving away what he had and trusting God to fix it. There is no way I could fix it, Cory.
Cory:            Right.
Paul:             I told my friends who thought I was nuts. They thought I needed to declare bankruptcy. I gathered my family around, January 1st of 2008 and I said, "Guys, we're going to start giving our way out of debt. We didn't even have hardly anything to give but we basically acted as if we had about an income of about $500,000 and we started giving really, really aggressively.
Well, Cory, four weeks later, I was in a subway restaurant, I met a real estate developer there and he made an offhanded comment about something I could do to subdivide a five acre waterfront lot that I could not subdivide. It was not legal to subdivide it. I said, "I couldn't do that without county approval." The next day I found myself in front of the county claiming and zoning people and they were astonished at this idea I had to use their law against subdividing to actually subdivide. I said, "If you look at this differently, you can actually subdivide this land." The lady was absolutely astonished and she said, "You are absolutely right. I've been around here for years and years. Never heard of anything like this." And she said, "You're approved. You can do this."
Cory:            Wow.
Paul:             One thing led to another, Cory.
Cory:            What a miracle. That's an incredible story. Wow.
Paul:             If I told you the 10 more minutes of details, it's even more miraculous. Here's what happened, Cory. 13 months later, I was completely debt free, including my house.
Cory:            Wow, man.
Paul:             In the middle of the great recession. Here's what I'm convinced of, I had to work really hard. I had invested time. I had invested money. I had to be creative. I had to go before the county and all that. I had to work hard but Cory, I'm absolutely convinced that never would've happened if I hadn't started with generously giving.
Cory:            That's huge. First off, praise God. What an incredible story. So many people are listening right now, just encouragement from incredible ways from sharing that story. Second off, what a great way to basically build your faith even stronger into the direction that you want to go which is basically giving first. One thing that you even talked about, remember be a servant and being grateful everyday is the key to not only a life for fulfilment, which is a very big difference from a life of just enjoyment. I've had life of fulfilment.
It taps into the fact that you didn't rely just on yourself to get you out of that situation. Man, I just think such an encouraging story, such a great testimony for your faith in God. We both share that, obviously. I think that from there, there was something that was planted in you that took you over to that next level. What we've talked about in the podcast, we talked about our profit master investing strategy. Through those experiences, now you've got out of debt. Now you've learned new things. You subdivided that deal. It was basically just a miracle on how that happened. What did you learn through that that created your master strategy and how are you working on that today?
Paul:             Well, Cory, what I learned through that was that we don't become the person that we want to be after we succeed. It's easy to think if I won the lottery or if I made that multiple millions of dollars, I would start being generous. I would give money away. I would give my time away. I don't believe that's true. We have to give our time, our talents, our money in advance. By doing that, we're planting the seeds for what we're actually going to become later. I think money and success magnify who we already are. I don't think they ever change us for the good unless we already have our character built early on. That's one lesson I learned.
                    The second I learned through this whole process, stepping back to my whole 15 year, often painful education was I needed to stop swinging for the fences. Cory, I do not believe that swinging for the fences is a sustainable strategy for most investors and entrepreneurs over a long period of time. Sometimes, people, they hit a grand slam. I hit a grand slam in the 90's with that company that we started and sold for $2.9 million under 5 years later. But it leaves people with a taste for doing it again and again. Usually, swinging for the fences, trying to hit a grand slam is not a sustainable long term strategy. Although I'm all into taking risk, I'm all into all that, I do not believe it's right or smart, at least, to take big risks with your investment funds or at least with all of them.
                    What I didn't know over those years was that there was a difference between investing and speculating. If your principal is safe and you have a chance to make a profit from it, that's called investing. If your principal is at risk and you have a chance to make a profit, that's called speculating. I actually believe that I confused the two over the years. That was my biggest lesson. That's what I like to tell young people now, is basically, be careful with the difference speculating and investing. Paul Samuelson which was a Nobel prize winner in economics said investing should be more like watching paint dry or watching grass grow. If you want excitement, take $100 and go to Las Vegas.
Cory:            That's a great analogy. I'd love some of the things you're talking about here  for speculation versus safe investing for your principal and it's a great way to just understanding how you've put that together. Before we move on here, do you want to talk about what is working right now? Is that a part of, I think you said you had a slide deck, you want to talk about that now or do you want to talk about that later?
Paul:             I think I've skipped over that earlier when you asked me what I'm doing now. I'm doing commercial multifamily investing. Some of the wealthiest people in the world are developers, I get that, we developed in Ohio a hotel, we developed two subdivisions, but also, a lot of the brokest people in the world are former developers.
I've decided on a strategy to invest in commercial grade, that means 100 units or above usually, class B, multifamily apartments. The demographics, the safety, the stability, the profitability and the tax breaks are almost unbelievable. Here's a slide showing the 10 year slide in home ownership. Thanks to government tampering, home ownership went up from its historical norm of 60% to 65%, it shot up quickly to 69.2% I believe it was in the year 2005. And then of course the recession hit. People started losing their jobs. I had a friend who had literally $35,000 income. He bought his second home that was a $600,000 mansion as a second home. No money down, I think he got money back at closing. Lots of people started making their mortgage payments and then they stopped making their mortgage payments and of course, we saw what happened. And then of course the government blamed those mean bankers.
Anyway, we've been in a 10 year, 11 year slide now, from 69% to about 63% home ownership. There are a lot of reasons for that, Cory. In summary, one reason is that baby boomers are starting to rent again. Some of them are renting because some of the boomers between around 1946 and 1965, more or less. A lot of them are starting to rent again and statistics say when they rent again, they will never buy a home again, typically.
Cory:            Wow. That's interesting.
Paul:             Yeah, the echo boom, also known as millennials, they're about 80 million strong. As we all know, and we've heard, echo boomers are millenials. 54% started renting now than the traditional norm of 65% owning. Millennials want a more flexible lifestyle. They want the flexibility to change jobs, to move across town  or to a different town with new friends, new jobs, new mobility. A lot of them saw their parents, their friends, others in their workplace lose their homes in the great recession and the millennials realized that home ownership isn't the great American dream that we were all taught and we all grew up believing.
Millennials and baby boomers are more inclined to rent today. Millennials don't seem to even mind that. Germany, right now, by the way, has about 42% to 44% homeownership rate. I don't know if America is going that far, going that direction, but ours is down to 63% right now.
                    A third reason is immigration trends. Immigrants in general are more likely to rent than own. This chart shows here in the mustard color here what the impact of immigrants on the US population and they are more likely to rent than own.
Cory:            Got you.
Paul:             Back to my theme of low risk, high return. You want to have the lowest risk along the x axis here and you want to have the highest return. That's ideal. I invested in silver and gold last money two or three times in there over the years. The highest return is core commercial real estate. It happens to be the second lowest risk compared to government bonds and it's not far behind. If you factor out the sand states of California, Nevada, Arizona, and Florida and if you really focus in here on multifamily and oddly enough in storage units, that would take us even further to the left, lower risk and a little higher return.
                    Commercial real estate in general has amazing low risk, high return within commercial real estate. This graph shows that the sharpe ratio which measures risk and return, again you're going for the highest number, is 4.6 times higher than the dell jones, meaning the return versus the risk profile is that much higher. It's 1.3 times higher than private equity. It's the highest of the four subclasses of commercial real estate. Again, I will point out that storage units is probably very similar and they're not their own class.
                    This graph shows something that my friend…
Cory:            You can't depreciate land. What are the disadvantages of some of the big land built with storage? To your point, looks like apartments have always and will continue to be one of the better investments of your lifetime.
Paul:             Right. Quickly, this graph, Cory, alone, convinced my friend who is a financial planner in Atlanta that he wanted to invest in multifamily. Basically he said, "We're always looking for something that goes up in good times and continues to rise in bad times." This graph shows the indexed rent in the yellow line versus household income from 1960 to now. As we can see, household income has been on a slide since the early 2000's. Rent continued to rise, and as you know, as a multifamily investor, one of the reasons is that during the recession, people who are losing their homes went back to renting. During the recession, multifamily construction screeched to a halt and people were going from home ownership back to renting, at least in that recession. I don't know if it will always happen. There was a self buffering effect that multifamily had. We love multifamily. These guys do too but I won't get into that right now.
                    When I moved from Detroit to Virginia, I didn't know I was moving to Franklin County, Virginia which was the Moonshine Capital of the World. These guys have something that we call the recipe, the Baldwin Sisters from The Waltons. My recipe for success is low risk, stable high returns, and that's what I'm getting into here with multifamily.
Cory:            Sure. I'll tell you what, these slides and the folks that are listening right now. Listen, make sure that you get on the website realestateinvestingprofits.com.  Make sure that you listen and watch. We have videos of Paul and I, we're sitting side by side here, sharing a screen, showing some incredible graphs that you can look at. Paul, if it's okay with you, we'll be able to get some of these screen captures and post them on the shownotes, if you're okay with that.
Paul:             That'll be great. I'll send them over.
Cory:            That's fantastic. It's more compelling to me, as you and I talked about, just when we get on here that I just did my second multifamily transaction, I've been focused on residential for years but it's interesting to me and it's the writings on the wall of how many ways you can really build long term wealth with multifamily investing and the ones that you don't want, you can flip those as well and so you can still use a lot of your same principles for marketing on residential that you can with multifamily.
It's truly something that is real estate. There's a gentleman, I can't think of his name right now, that talks about the difference between real estate and phil-estate. Phil-estate, if you, as residential, you go in and the buyer may like the kitchen or they like the bathroom. It feels weird, but as real estate, as this commercial deals, these multifamily, it is by the books, LoopNet gives you great data but you're looking at a dollar per square foot or a dollar per unit. Your cap rate may or may not be that important because you're really looking at where the world's going. You're looking at what's going on with rent, you're looking your numbers and your charts are more important.
Commercial investing isn't obviously, I think, the right fit for everyone but those that do want to dabble into it and really put their toe in, can understand that there is massive benefits. Tax wise, there is massive benefits from running into deals that people own in the United States that want to get rid of these things and they don't have anybody they talk to because first off, I'm surprised that most people don't understand P&L. They don't understand a balance sheet. They don't understand their trailing 12. They don't understand anything like that. Many of these folks do that own multimillion dollar complexes, multimillion dollar hotels. Once you get a little bit of knowledge to understand it, and it doesn't take that long. It will take you a month to really learn what you need to learn, learn the lingo, learn the thought so you don't sell like a novice.
I guess you're going to talk about your book a little bit here and where people can get that but once you get that information now, you have the confidence that you can talk to a multifamily seller. If they have a 50 unit, 100 unit, or a 200 unit, we're looking at a 320 unit in Florida right now, now you don't go, "What's that work?" Now, you understand just like anything else, you have learn it. Right, Paul? You have to learn the transition from residential to commercial to multifamily. You have to learn that transition. I think you've done a great job of really taking the history and where we're going now with multifamily investing. Do you have a strategy right now that's really working well for you, that you can talk about for multifamily investing?
Paul:             Briefly, we are pulling together investors and allowing them to be fractional owners of our multifamily. We're basically not asking them to invest in our company. We're basically putting their names individually on a single use LLC. By being fractional owners of real estate, of these multifamily assets, we're giving them tax benefits that are, honestly I don't know if I should say this online, but I think if the American people knew how little commercial real estate investors and specifically multifamily investors in this case, are taxed, I think there will be another tax revolt because basically what we do is what's called a cost segregation study.
                    The cost segregation study allows us to accelerate the depreciation on a multifamily asset quickly, for example, the dry wall, the electrical, the lighting, the pavement, the striping, the landscaping, the carpet, the appliances. All that doesn't have to be depreciated over 38 years with the rest of your walls and your foundation, they can be depreciated over 3, 5, 7, 10, or 15 years. By doing that, our investors are getting a healthy 68%, typically, return every year but they're getting a negative K1.
Cory:            That's what you're doing?
Paul:             That's an example of what we do. A lot of them get about an 8% profit and the total return counting appreciation and principal paydown however typically is between 15% and 22%. That's at the end of the day, you know those numbers. But what's amazing is for the first six to eight years or so, there's a legitimate loss on their tax return even though they're getting this really nice check. And then, Cory, if we go to refinance and say five or seven years, guess what, you refinance your home you pay how much tax?
Cory:            Zero.
Paul:             Zero. Well, when we refinance, our investors get all the windfall that refinance, we could have the safe equity we could harvest out and there's zero tax. And then of course if we go to sell, as you well know, we do a 1031 exchange whenever we can. There are about seven other tax saving strategies that multifamily investors use but you have to be an owner, you have to be a fractional owner of multifamily to get these. That's what we're offering our investors.
Cory:            Love it. Basically, you're putting the emphasis on the tax savings which as we all know is the largest expense, bar none, that you have in business.
Paul:             Right.
Cory:            Thank you, thank you, thank you. I think we're going to see some bigger benefits specifically for real estate investors, I think we're going to see some things that actually may not be as good but I think you'll see most things will be beneficial for investors and particularly for real estate investors. Because when you take from somewhere, you have to balance it out to some other. Trump's a smart guy and I know that he's going to figure that out.
                    Essentially, with the cost segregation and the acceleration of depreciation, let me give you a quick example and I know that some folks in here just don't really understand that and in just layman's term. Basically, normally, what you would do is you would have a period of was it 28 years or 7 years that you can depreciate over a certain period of time for your residential property. You can take a piece of that over time. It depends on who you talk to with your CPA but over time, you can depreciate a house, and the money that you're paying for the rent for the house. The percentage of that can be depreciated because it's not the same. 1991, it's not the same house in 2005.
With apartments or commercial, and you can correct me if I'm wrong on this Paul, but let's say that the carpet or the paint or the hot water system equipment or the lighting, let's say that you could choose within a certain period of time of when, what year, you want to depreciate all of that. If you put in $300,000 or $400,000 in cost improvement, you could, if you wanted to, choose how much of that that you wanted to depreciate in what period of time that you want to depreciate. You could choose in the first couple of years that you want to take all of that tax savings from some of those improvements, does that sound about right?
Paul:             That's about right. It's absolutely true, except that there are IRS guidelines that specifically say, "Okay, lighting has this much time, this carpet, this hot water, the striping lane." The landscape, I think might be 5 years but striping and the pavement of the parking lot is 15 but it's a huge improvement over 27 ½ or 38 depreciation.
Cory:            Yeah. It's a period of time. It could be significant because here's why it's so exciting with commercial, some people are listening right now, they're blowing their mind because they don't know much about commercial, they don't know much about multifamily, we mostly talk about residential but here's one of the benefits. Usually, when you have an investor and you guys are doing a syndication which is basically taking the pizza and cutting it up into a certain slices and you get a slice, I get a slice. But typically, that's going to be over a five year period, maybe a little bit longer but five years is what you're looking at for your internal return for your investors.
Because you can take all of that depreciation in those first five years there, by that time, now you're ready to catch up. Now, you're ready to go onto the next project. I think that's the part that may be like a light bulb in some people's head because you can force "depreciation" and you can force "appreciation" which we haven't talked about which is one of the best benefits of working with commercial. I'm excited because this whole part of my life I've been focusing on residential, Paul. You got in this way quicker than I have and I'm excited about it because I see the potential, the future of really building a massive opportunity and with wealth that pays long term with these apartment complex as with these commercial units.
Paul:             Right. I absolutely agree and that was a light bulb for me about the time I turned 50. Do we have one minute to talk about forced depreciation?
Cory:            Let's do it. I love that.
Paul:             Residential world where I've been for years and years basically, the value of the home is based on the cost. But in the commercial world, it's based on the net operating income divided by the cap rate. Basically we're going, same as you I believe, going after a value added strategy which in really quick layman's term means this; we can make improvements to the marketing, to upgrading the units and to cutting cost that will actually increase our net operating income dramatically. By doing that, we are dramatically increasing the value of the property.
Cory:            Yes.
Paul:             Basically, if you're buying something at a 6% or 7% return, also known as cap rate, which you're getting say a 33% return on the improvements then the blended average return dramatically goes up and that's the bottomline of value added investing.
Cory:            It's one of the most amazing things that just keeps you up at night because of the fact that if I go and spill and to break it down into layman's term, you are way smarter than I am on this, I'm learning. If I spend, let's say, my lighting bill is $8,00 a month so, it's $96,000 a year, and I wanted to drop that down, I wanted to get LED lights on my apartment complex, now what happens is because my expenses are less, my profit is higher. Right?
Paul:             Yup.
Cory:            Let's say I put in a washer and dryer unit and I charge $50 a month and I have 100 units, now I went from $5,000 a month, potentially if I got those, $60,000 a year. All of a sudden you're getting $60,000 a year to your apartment complex. Would you think that raises the value of the property? This was the big "aha" and I know you already know this but now from not only are you getting the $50 a month extra but do you think that $50 a moth on 100 units right, it's $60,000 a year. Now, it dramatically increases the value of your apartment complex and so you might spend $1,000 dollars for each one of those units. Maybe you spend what would you say, maybe $100,000. Let's say you spend $100,000.
Paul:             You spend $100,000 to get a $60,000 annual return. Right off the bat, you get a 60% ROI right on that piece.
Cory:            Yes.
Paul:             But the value of the property just went up about $900,000.
Cory:            Can you say that one more time. Can you say that one more time, Paul, because I want that to sink in, you spend $100,000 because you bought, in this example, $1,000 dollar washer and dryer that you're renting out now for $50 a month.
Paul:             Right.
Cory:            Now, you've got $5,000 a month coming in that you didn't have before, $60,000 a year. Now, your property went up the value, how much?
Paul:             About $900,000. Why? Because it's the net operating income which we just added $60,000 to, divided by the cap rate and let's just say that's 6% or 7% and do the math.
Cory:            Yeah, just unbelievable. Here's what great about this. In the Midwest where I am, were getting stuff at 10%, 11% cap rates.
Paul:             What?
Cory:            10%, 11% cap rates. 9%, 10%, 11% cap rates. Here's the great thing about commercial, you actually want to sell, when you go to sell this unit for a less cap rate because it makes you more money. They're paying you more money for the property, another powerful thing.
Anyway, people now, their minds are blown, they've completely turn us off, their like, "This has nothing to do with flipping properties and all I want to do is make my $15,000." Or now they're just completely compelled and want to learn more about this. I could stay on this conversation forever but let's move on here. Do you have anything else you want to share before we talk about maybe one of your business quotes? I think people want to know who you are a little bit and what's one of the business quotes that you really love?
Paul:             One of my favourite motivational quotes is from C.S. Lewis. He said, "It seems that God finds our desires not too strong but too weak. We are half hearted creatures fooling about what drinks and sex and the ambition what infinite joy has offered us like an ignorant child who wants to go on making mud pies in the slum because he cannot imagine what is meant by the author of a holiday at the sea. We are far too easily pleased."
Cory:            I love that. Wow. You really love C.S. Lewis?
Paul:             I will say I really love C.S. Lewis but I love his eternal perspective and I think that's what drives me and that's what drives my big why and that's what is just really motivating me to do a lot of what I do but I can't even imagine that 20 years ago, I thought about retiring in my 30's. I have absolutely no plans to retire at all now.
Cory:            What is retirement? You have to really define what that is for you. For most entrepreneurs, it's putting you in the pine box. If you have drive and there's a reason why you don't want to work for someone else anymore. Let me just first say that. Not everyone is cut out to be an entrepreneur. It just took me a very long time to accept that. Not just to understand it but to accept it. Because I would want someone to experience not having to clock in, not having to work on someone else but guess what? The highs and the lows, you have to be able to weather. Man, without God in my life, there would just be no way, there would just be zero reason, I just wouldn't be able to sustain the volatility of entrepreneurism.
Paul:             Yup. I agree with you.
Cory:            Do you have a mobile app that you use, that you really love? Are you a techie?
Paul:             I'm a techie wannabe. I have an online marketing business so I should be but I'm really enjoying HelpSpot which is a content management system that integrates with website, integrates with all kinds of things so I've been really enjoying that this last year.
Cory:            That's cool. HelpSpot is really great. They have auto responders built in now and they have things that work with InfusionSoft. For some of the techies, that's basically a back end great CRM system that can track everything from where your traffic is coming in from online. It's not inexpensive too. You have to definitely put an investment in for using it. There are other alternatives and that's a good one. Justin talks about it all the time, last name, a marketer you and I both know, can't think of his last name right now.
Paul:             Okay.
Cory:            Anyway, do you have a morning routine that you follow?
Paul:             Yeah, I try to get up an hour and a half or two earlier than I so called need to be and try to spend some times in silence, prayer, meditation, study of scripture and that's something that I won't say is completely non negotiable because I do mess occasionally but I really enjoy that. I've got more out of journaling probably than any other thing. That's something I've really been trying to do. You know Perry Marshall, the marketing guy?
Cory:            He's fantastic. 80/20 book he has, fantastic.
Paul:             Love that book. It's one of my favourites. Perry and I shared an AirBnB together at the conference recently and he spends an hour every morning, no matter how early he has to get up, to just basically sit before God and journal. Basically, that's a non negotiable for him. A lot of the brilliance in his copywriting and his marketing strategy comes out of that.
Cory:            The power hour. Tony Robbins talks about this.
Paul:             Right.
Cory:            One thing I've been really, we talked about this a little bit, delving into his stoicism and understanding the power that comes from silence. Meditation has a stigma and it really shouldn't because for me, meditation is meditating on God.
Paul:             Yeah.
Cory:            For other people, it's meditating on nature, meditating on other things. Whenever you spend that quality time with you and your creator, let's just say that, then there are things that come from that conversation that aren't words. They're thoughts, they're feelings. Sometimes the emotional impact and the thinking power that comes from silence can be the loudest thing in your life. It can really create some impactful things and it's because you shut out the noise that's called life which is necessary that we're in it but in the bible it talks about we're in this world but we're not of this world, meaning that we can create a separation. How do you do it? One of the ways that you do it is prayer and meditation.
Paul:             Right.
Cory:            Don't let meditation have a stigma on it which it does for a lot of folks. What time do you get up on your morning routine?
Paul:             It really depends. Like tomorrow, I'm meeting a friend at 6:30am so I might try to get up at 4:30am if I'm disciplined enough. Other times, as late as 7:00am.
Cory:            Okay.
Paul:             It depends on how late I stay up.
Cory:            So you don't have that I'm getting up no matter what? You kind of base it on your sleep patterns.
Paul:             Right.
Cory:            Do you get eight hours of sleep at night?
Paul:             As a type A, high driven entrepreneur, I used to get five hours of sleep and then I got up to six and I was pretty proud of that but now I'm up to seven and I try to get eight or eight and a half one to two days a week to make up for all the sevens.
Cory:            I want you to do some study on this because I'm just like you in terms of five hours of sleep. I could sit there and look to the ceiling fan but I recently did some study on sleep and it's interesting every three hours how your body goes into different stages of sleep. If you woke up, for example, without having that third hour, if you woke up on the fourth hour not having the full three hours, you can feel a certain way unrested and all these other things.
I highly recommend that you look into sleep stages. I know you've heard of REM sleep, I'm know you've heard of all these other stages but it would be interesting, I think you would particularly find it interesting that if you are for example saying I'm going to sleep and so I need to get five hours of sleep, well maybe you could get six hours of sleep but you didn't think about the fact that what is the benefit of really getting that six hour. One of the benefits is knowing that when you hit that third hour from the one, two, three, then you could really get a new level of consciousness and relaxation that you wouldn't necessarily got if you would have woken up at that fifth hour. Even though you could've got up at 5:30am, it makes sense to stay asleep for that other 30 minutes. It's just adding the because, it's not just because I need more sleep, it's, "I'm at this point. I should go ahead and get that third hour."
Paul:             Right, thanks.
Cory:            What are you most grateful for, Paul?
Paul:             I guess having a type A, driven, formerly very selfish person, I remember some of the things I did in college and I cringe, I could have easily lived and died my whole life for myself but God rescued me and gave me a bigger purpose, a bigger reason to live, including my family and including what has become my big why.
Cory:            Wow. Your family is what you're most grateful for.
Paul:             Basically, I really feel like being rescued by God and my family would be the things that I'm most grateful for.
Cory:            Two big things. Do you have a point where you recommend hiring a coach or a mentor and how important has it been to your life?
Paul:             It's been incredibly important for me. I don't know that I can speak to everybody's situation but if you need to jumpstart your next big move, I recommend getting a mentor. I recommend you find a mentor this way. I recommend you go to somebody who's doing what you want to do. Offer to serve them at no charge because every entrepreneur has dozens and dozens of things they need to get done that they have nobody to do. They would love to have somebody to serve them. Go serve them at no charge with nothing in it for you, just to learn the business. As an entrepreneur, they will spin off all kinds of ideas of things that they would love to do but they don't have time to do. Additional houses to flip or apartments to buy and eventually you'll come into that.
                    When I was about 50, I realized I could not afford another big career mistake, I couldn't afford another hotel that went bad or $2,500,000 in debt so I spent a lot of money to hire a mentor and I trained under them for a couple of years. That's made all the difference for me.
Cory:            That's awesome.
Paul:             I know I look a day over 40 but I'm over 50.
Cory:            You do. You look great, man. 50 is the new 40. That's what they say. I think you're doing fine, man. I'm encouraged by the fact that it seems that you've got this bigger perspective. Sometimes you talk to folks and they're successful. They rocking and they're crushing it but there's like this level of meta that is just not there in terms of the bigger perspective. I always enjoy talking to folks that really see the bigger picture in life. Even though you've done some incredible things and continue to be really successful, you have a bigger focus, a bigger picture in life and I love that. If you had to summarize it, why do you do what you do? What gets you up in the morning?
Paul:             What's getting me really excited, you're familiar with Toms Shoes?
Cory:            Yeah, sure.
Paul:             Blake Mycoskie is one of my heroes. Toms Shoes, basically, if your audience knows, I'm just going to summarize it. If you buy a pair of shoes with Toms Shoes, you don't have to share your pair of shoes with a child in a third world, obviously, but you don't get to choose where they donate that pair of shoes either. Toms Shoes donates it somewhere in the world and you can feel great knowing you did this.
                    I have a company. A new company called Wellings Capital. Our investors get the opportunity to profit from everything we talked about earlier. One of the most stable profitable asset classes on the planet, large apartments. Our investors, just like a Toms Shoe buyer, they don't have to share their investment profits, they don't have to share their dividends, they get to keep them all. But like Toms Shoes, we are giving away a substantial part of our internal profits in our company to maybe people in third world countries and other places. Unlike Toms Shoes, we allow our investors, which would be like the Toms Shoe buyer, we allow them to instruct us on where they want us to invest our profits. We don't always listen to them but typically if our investor and us have the same passion, if we like the same organization, we're going to donate a significant part of our internal profits to that cost. Do you have a minute for me to tell you what I'm really passionate about in that regard?
Cory:            Absolutely.
Paul:             I'm really passionate about human trafficking, actually fighting human trafficking right now. It's a scourge. It's a global threat to men, women, and children who are vulnerable all over the world. This injustice is affecting millions of people on every continent, every socioeconomic class.
Human trafficking generates $150 billion right now from its 21 million victims. Cory, that's, get this, double the annual record profits of Apple, Nike, Starbucks and General Motors combined, double the record annual profits of those four companies. 98% of the victims are women and children.
Wellings Capital funnels a large portion of our profits to fork human trafficking and rescue its victims. We want to help the victims as well. We want to tell them, "You're not a piece of garbage. You're valuable. You're precious. You were created by God in His image." Basically, we're excited to work with investors to place our profits with organizations doing this important work. We've got our favourite organizations but we want our investors to tell us. Like the other day an investor said, "Hey, have you heard this certain organization that is fighting human trafficking? We heard about it so we started donating to them as well." We're passionate about fighting trafficking, drilling water wells in third world countries, putting orphans in homes, and fighting all kinds of injustice around the globe. That's my big why. That's why I never plan to retire, Cory.
Cory:            I'm just moved by you just really getting things lined up, what's most important in life. It's so obvious to me that you are working at a higher level. You're working on a bigger plan. Some of my friend, Justin Williams, works with human trafficking programs and gives a substantial amount to help them. If you're familiar with Charity Water, Scott over there, we've helped build wells with Scott for Charity Water.
One of my passions, one of the bigger influences for grateful project is understanding the fact that you just don't realize how good you have it living in the United Stated of America. I think 95% of people listening to this podcast right now live in the United States of America. You just don't realize, for one, things that you take for granted on a daily basis. You live in a world where so many "injustices" happen.
Paul:             Right.
Cory:            It's so easy to just not care. Really, it's just so easy but when you become aware, like example, whenever you said $150 billion more money for human trafficking on women and children which had stroke a nerve in pretty much everyone listening. More money than Apple, Starbucks, General Motors and Nike combined.
Paul:             Times two.
Cory:            Times two. That takes it from the ethereal to, I can't get my head wrapped around that. That makes a difference now. The more you become educated on matters that are injustices, then you then have a greater propensity to be able to affect change, effect that. I think sometimes people don't rise up even though they could and should because they feel like they're throwing the penny into the ocean. They don't feel like their effort matters. I know you've heard people say it before but this rings so true. Imagine one of those little girls is your daughter, or imagine that the woman is your wife, that impact, that way that you can help, the way that you serve, that penny that you throw "in the ocean," that affects that person.
Paul:             Right.
Cory:            And so, you have to think about it as one person. You have to think about it as one person because one person at a time creates the masses. Jesus fed one person at a time and then all of a sudden the baskets were full of bread, then you could feed the masses. Why is it? Because the faith of one person affects the masses.
I think that that may be a way to get a better perspective on it. You can help. You can affect people. You can have impact. I love the fact that by investing, sometimes we separate the two with we can't do good by doing investing, we can't invest without doing good. No, you can. In this day and age especially, you can create the hybrid of the more investing that you do which we're all driven and we love to make money and that's fun but then you can also do more good.
Paul:             Right.
Cory:            Right.
Paul:             Right. That's right. That's why I don't want to retire. You talked about boiling this down to a single person. I cringe to say this but it's said that sex trafficking generates up to $500,000 in revenue for the perpetrators, per year, per girl. Think about that now. It's horrifying. I'm wearing this bracelet, it's from Exodus cry. There's a 22 on it. Exodus Cry, they produced a film called Nefarious. I highly recommend that the audience get this film, Nefarious. Exodus Cry produces films, they're coming out with new films this year, exposing the dark under valley of this industry.
Cory:            Just bringing the awareness on it makes me want to do more as well. I know we'll be talking about ways that we can do that. If we want to get in touch with you, Paul, if somebody wants to figure out a way to talk with you more about commercial investing, I know you have a book. I'd like for you to talk about where people can get that. What's the best way to contact you? How can we get your book and how can we also be a part of some of these charity programs and give back programs?
Paul:             Okay, great. I've got a book called The Perfect Investment. Sounds a little arrogant but The Perfect Investment is what I've come to conclusion and it's Create Enduring Wealth from The Historic Shift to Multifamily Housing. Here it is. You can get that on Amazon and you can get it at my website wellingscapital.com. I also want to challenge your listeners. If you give up to $1,000 in total, from the group, to exoduscry.com, we will match it dollar for dollar, Wellings Capital will match that. Just send me your receipt. You can send it to paul@wellingscapital.com and we will match that. I think you would really be happy you did this.
Cory:            That's perfect. This has been one of my most, just super excited about this interview. I love it because it taps into the heart strings of most of the folks listening. They get where you're coming from. Many of them have been writing in, telling me that they're interested in multifamily. Even if they're not, just some of the stories and the way that you presented some of the information on here, I think it's going to be incredibly impactful. Paul, I appreciate you taking the time to be on here. Really, it's been an honor.
Paul:             Thank you so much, Cory. I really enjoyed it. I appreciate it.
Cory:            Make sure that you're on our next podcast interview where we're going to bring incredible people, just like Paul, on here to give you some incredible, phenomenal information that you can use in your life to impact others. Until then, remember, be a servant and I will talk to you soon. Thanks again, Paul.
Paul:             Thank you.
Cory:            Bye now.
Paul:             Bye.
Ask Cory A Question
Want to get in touch with Cory and ask him your most burning Real Estate Investing question?  We've made it super easy for you.  Just head over to our Ask Cory A Question page and start recording.  Cory will play your question live on an upcoming show and answer it personally.
Who Do You Want To Hear From?
Name some folks I should get on the show! Hit me up:support@realestateinvestingprofits.com and I'll do my best to get them on.
Did You Get Your FREE Investing Guide?
TEXT the word PROFIT (38470) to immediately sent Your FREE Investing Quick Start Guide!
JOIN The Elite Real Estate Investor's Board of Directors
Connect Here
Please check out our website, realestateinvestingprofits.com for the "Down and Dirty" Ultimate Real Estate Investing Quick Start Guide download.